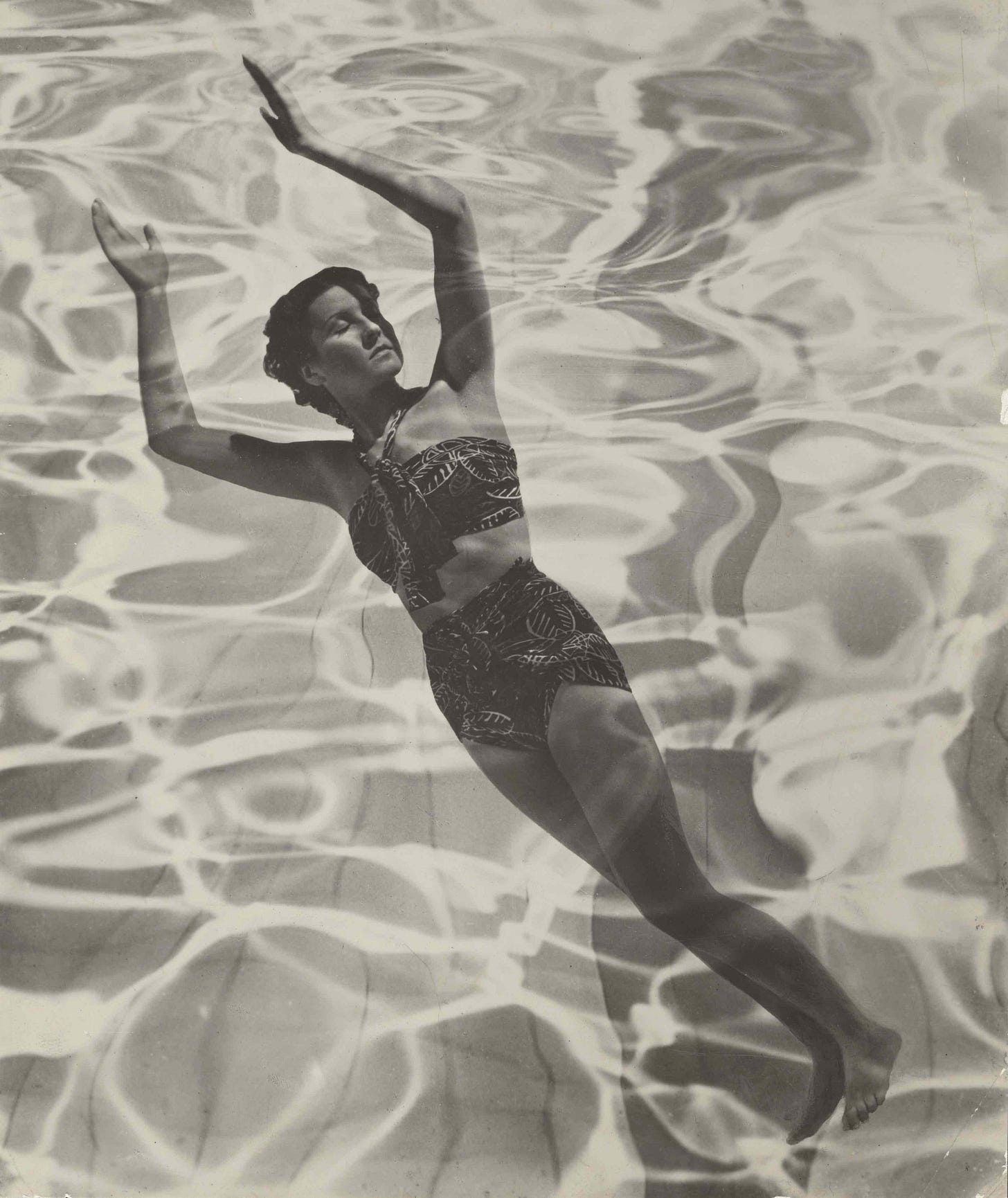 ( Model in Swimsuit by Dora Maar 1936. The J. Paul Getty Museum, Los Angeles © ADAGP, Paris and DACS, London 2019)
I need to talk about my worries today. I tell my Dad on the phone this morning, I warn him, so he understands what this talk will look like. I tell him, I need to talk about my worries, and I need you to not panic. I need you to stay calm and collected, I need you to say things are going to turn around, things already have been turning around. I need you to say: You've been here before, you know this is not the end. This is a little loop in the cable, like when your headphones get mashed up in your pockets, a little knot, you just need to untangle.
Self-soothing is an important skill, that grows over time and like our challenges are growing as we get older, it has to adapt into many different shapes. Sometimes it's the moment to know when to talk about worries, sometimes it's the moment to remind yourself what a friend once said to you, sometimes it's taking a break, putting everything on hold and just sit with the problem, arm in arm, asking questions and hopefully getting some answers.
A couple of weeks ago I told a friend how confident I felt about my new freelance endeavour, sending her a voice message where I speak about it full of joy and excitement. I'm looking for that message now, as I write this. "Listen to it, when you're not in that place anymore." She had said.
The fact that I actually remember this, that I actually think about it, while I'm sitting here worrying about the future, makes me feel like I entered another level of self-soothing. As if I had put a hook in that moment 3 weeks ago and now I can slowly pull it towards myself again. And not following this other part of me that wants me to: ruminate in misery.
"Listen to it, when you're not in that place anymore."
"Universal credit is not supposed to support you long-term. It's supposed to be a short-term fix. In-between jobs. You understand that right? " – That's why I'm worrying. Yesterday, I had a phone call with my work coach from Universal Credit. A social benefit program in the UK to help people currently unemployed. Which hello pandemic?! and after being made redundant last week, is frighteningly the case. Furlough has run out. September is the month where things get real rapidly. - I say this though I did know this before. I knew it in May, in June, in July and in August. September, now, now is September, do you remember?
And those moments where you feel your life just lift up...     ... and take off.
I think of the Sisterhood of the Traveling Pants. There's a scene, where the four girls (best friends since they've been born and all magically fitting into the same pair of pants) stand on a cliff on a greek island preparing to jump into the deep ocean blue. I often think about this scene, about September as my own version of this moment. From the secure distance of the months before, it had looked freeing and easy. A moment of letting everything begin, a moment of enormous energy.

– Now that I'm actually standing on the edge of said metaphorical cliff, looking down at an unknown future, unknown depths, it all seems enormously scary. And I can see myself pausing, delaying and possibly stalling. Like here look at this delicious cinnamon bun recipe, that I made yesterday morning. It claims to produce the best cinnamon rolls you'll ever eat and early readers of this newsletter know that I am a sucker for a confident recipe title. I trust in confidence. It makes things feel easy and light.
"I should prepare for success. Because it's going to happen. Not that I'm cocky or anything but I am growing and it's just logical that in one year it all will be grand."
I listen to my voice message again and again. Following it, like a hand, taking me closer to the edge. I realise this won't be the last time here on the cliff. There will be more of these in the months to come. There'll be bigger and smaller cliffs. And sometimes it will be freeing and easy and sometimes somebody will stand behind me like the work coach lady making herself ready to push me, if I don't take that leap by myself anytime soon now lovey. So I guess:
– Meet you down there.
---
---
If you liked this week's Muse Letter why not share the inspiration and send this email to someone who might enjoy reading it as well, comment on it or if you're in a very generous mood buy me a coffee.